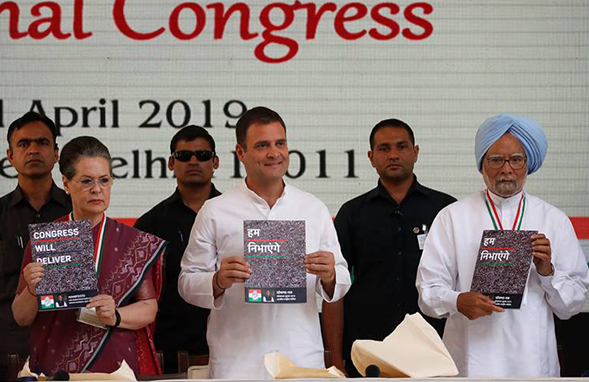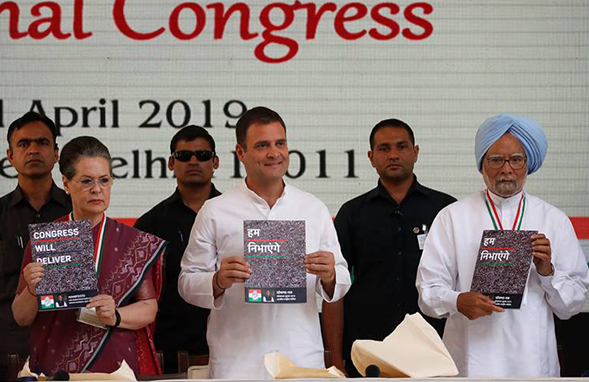 Indian National Congress released its manifesto on Tuesday. The document, titled 'Congress will Deliver', aims at combating unemployment and farmers' ordeal
On Tuesday, INC President, Rahul Gandhi released the party's 2019 manifesto. The document, released at Congress' Akbar Road headquarters in New Delhi, was titled 'Congress will Deliver'.
During the release, Rahul Gandhi was accompanied by UPA Chief Sonia Gandhi, former Finance Minister P. Chidambaram, and former Prime Minister Dr Manmohan Singh.
Asserting the inclusiveness of the manifesto, Gandhi said, "The manifesto is a massive step for Congress. When we started this process a year back, I told them that this manifesto should reflect the wishes of the people and whatever is present in the document should be truthful."
Manifesto committee head, Chidambaram said, "The contents of the manifesto, in my view, are the millions of the voices that we heard during consultations."
Reportedly, the opposition held closed door discussions, reaching out to the masses ahead of the release of their manifesto.
Chidambaram added, "We could not accommodate all the voices given the limitations. When this is released, you will find that there is enough in it to address the concerns of the farmers, youth, women, industries, minorities, healthcare, foreign policy, national security among others."
He further asserted that while the ruling BJP is "trying to take narrative to hyper-nationalism. Congress has to bring narrative to real issues."
At the release, former PM and Indian economist, Dr Manmohan Singh said, "We are going to submit a proposal that sums up the aspirations of people who wish to live with dignity. We want to fulfil the aspirations of the people of this country."
The manifesto focuses on persistent agrarian crisis and farmers' ordeal in the country. It promises Indian farmer's "Karz Mukti" (freedom from debt) and not "Karz Maafi" (debt exemption).
This would be achieved through access to institutional credit, remunerative prices, and lower input cost. The document also assures the establishment of a separate "Kisan Budget".
The 2019 election manifesto further reinforced the Minimum Income Guarantee to Eliminate Poverty or the Nyuntam Aay Yojana. Announced by Rahul Gandhi earlier this month, the scheme promises a yearly income of Rs 72,000 to almost 5 crore economically backward families.
Gandhi said, "NYAY will help the economy. We will deliver money to the poorest people in the country."
Congress has further promised to omit the colonial-era sedition law. The manifesto is now looking at eliminating Section 124A of the India Penal Code.
According to the party, the law "has been misused and, in any event, has become redundant because of subsequent laws."
Over the last few years, many students and journalists have been imprisoned under the sedition law.
Additionally, Congress has promised the employment of effective measures to curb unemployment. The party said it will fill over four lakh vacancies in the Central Government, Central Public Sector Enterprises, Judiciary and Parliament by March 2020.
The party has asserted that it "will work with State Governments to create new Seva Mitra positions (estimated at 10 lakh) in every Gram Panchayat and every Urban Local Body to ensure the effective delivery of government services to citizens." Further adding, "Application fees for government examinations and government posts will be abolished."